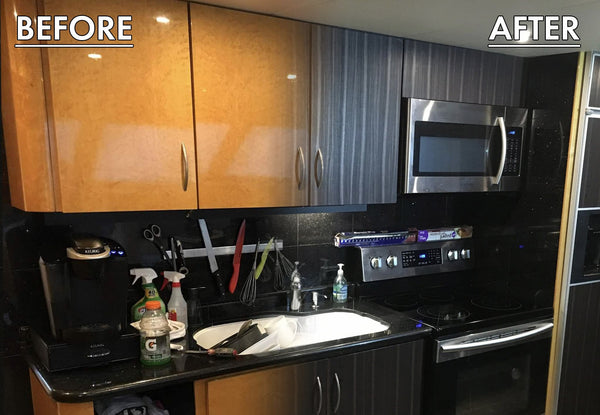 Fort Lauderdale Yacht Interior Wrap
RMwraps was hired to give the upper and lower decks of this yacht a facelift first in the summer of 2016, and again in the fall of 2018. This is one of the more drastic transformations we've had the ability to give one of our customers, because they wanted to go with such a dark wood grain architectural film over the existing bright glossy maple that was originally installed in this yacht. Overall this project used about 2.5 rolls of material.
Finished Walkthrough
---
This project had one rather unique aspect - and that was the saloon dining table legs. The vertical columns did not separate from the bottom feet in anyway, so Randy had to get creative in how to completely wrap the units using multiple pieces of architectural film, and create a seamless and visually-pleasing finished product. You can see the full step-by-step photo gallery on the full blog post (linked below).
---
Click Here to see before and after pictures as well as more videos from this project.
---
Randy Miller is a certified 3M™ DI-NOC™ Architectural Finishes Preferred Installer with almost a decade of experience installing architectural films from 3M, Belbien, LX Hausys, Bodaq, and Reatec all over the world.
We'd love to help you with your next Architectural Film project. Contact Us at 208-696-1180 or info@rmwraps.com for a quote.