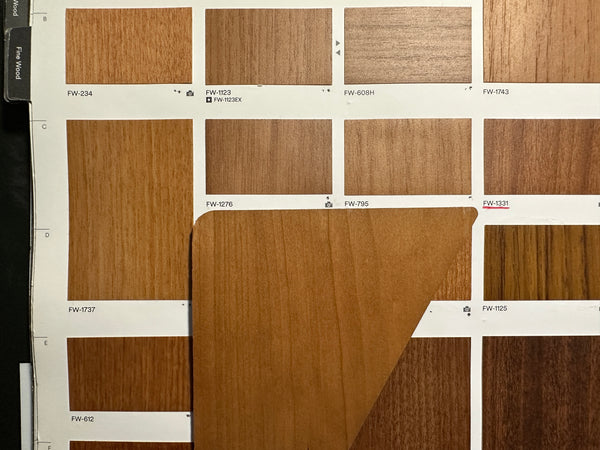 Color/Pattern-Matching Architectural Films
Every wood grain film is different, just like every shade of paint is different, and the color differences between what you see on a screen and what you see in-hand can make color-matching existing materials to new architectural films very difficult. Unfortunately full physical product catalogs are too rare for us to send out to everyone, but we're here to help you find your match. 
The most sure-fire way to find a match is to mail us a physical sample of what you're trying to match (a small vendor sample of a new material, or a chip/peel from existing surfaces). We'll compare it to our sample books, take pictures/video to show you the closest match we can find, and send you links to where you can order samples/rolls. 
| | |
| --- | --- |
| Video Messages Via:  | Texting you Order Links: |
| | |
If you can't send us a physical sample, the next best way for us to help is for you to send us pictures/video of the finish you're trying to match. You can email us at info@rmwraps.com or text pictures/video to 208-696-1180. We'll find the best match we can, and suggest where to start ordering samples. Because all cameras take pictures differently, it may take a couple rounds of sample ordering and you sending us new comparison pictures before we nail it down.